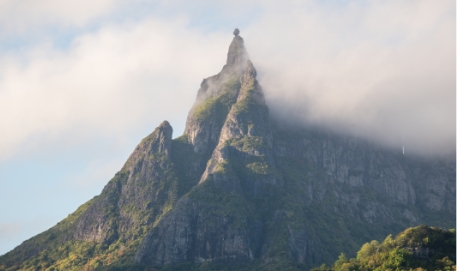 At 820m tall, Pieter Both is the second highest mountain in Mauritius. This peak is 8 meters lower than the highest point of the island, Black River Peak, at 828m.
Situated in the center of the island on the Moka mountain range, the Pieter Both is most probably Mauritius' most iconic mountain. It is easily noticed by a round shaped boulder at the extreme top of the mountain almost making it look like a human head.
This summit was named after Pieter Both, the first Governor-General of the Dutch East Indies. He held that position from 19 December 1610 to 6 November 1614.​​
In January 1610, a fleet of eight vessels, under the command of Pieter Both, left the Netherlands for Bantam, a town near the western end of Java, and arrived at Mauritius in September of that same year.
On 6 March 1615, Governor-General Pieter Both's ship Banda anchored near Tamarin Bay was caught in a cyclone and the boat sank. Forty-five men including Pieter Both died on that day.
Behind this iconic mountain hides a legend that not many know about. It is said that a milkman from Crève Cœur, a village at the foot of the mountain, was responsible for selling his milk to the surrounding villages. One day, he would have made the decision to take a shortcut passing near the mountain to reach the next village. During his walk, the milkman felt tired and decided to rest a little. He fell asleep and woke up later to the sounds of chanting music. When he opened his eyes, he was surprised to see fairies singing and dancing. The fairies told him to keep quiet about what he saw and not reveal to anyone what he had seen or they would turn him into stone. He continued his walk to the nearby villages and once with he got to the village, he revealed what he had seen during his trip. The fairies knew directly that he did not keen the secret. On his way back, the fairies got angry and turned him into stone. Today, the rock perched at the top of the mountain would be that of the milkman who did not keep his secret.