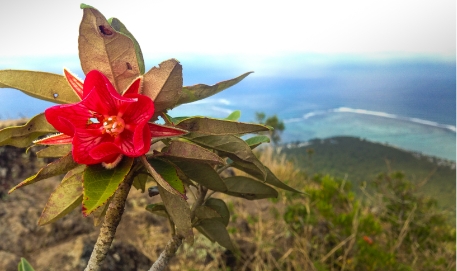 Mauritius was recently ranked by the IUCN (International Union for Conservation of Nature) as having the third most endangered flora in the world.
Although being near the top of the leaderboard, Mauritius still retains a rich and diverse flora, with more than 670 species of flowering plants of which 315 are endemic. Of these 315 endemic plants, the island is home to a unique and beautiful specie: the Trochetia Boutoniana.
The Trochetia Boutoniana, also known in Creole as "Boucle d'Oreille", was declared National Flower on the 12th March 1992, when Mauritius achieved it's status of Republic. The Trochetia is named after Louis Bouton, a French botanist born on "Isle de France" (Mauritius) in 1799.
The flowering time of the Trochetia is in winter time, generally from May to September, where we can notice beautiful red flowers. The "Boucle d'Oreille" is also a very rare flower. It's only natural habitat in the world happens to be in Mauritius, more specifically on the slopes of Le Morne mountain.
If you are eager to discover this rare specie, you are in luck. Yanature offers hikes up to the summit of the mountain everyday of the week from Monday to Saturday, where we have the possibility of admiring this beautiful flower.
Don't wait, contact us on: www.trekkingmauritius.com